Popular In Your Area
Get Stories Every Day
Your Weather
The Best Local News:
Texas School Arrests Child Named AHMED for Bringing a Homemade CLOCK to School
---
---
Ninth grader HANDCUFFED and taken to JUVIE after bringing a CLOCK to school
School PRINCIPAL told him that the clock looked like a MOVIE BOMB
English Teacher complained about clock BEEPING in class, took it from Ahmed
Disgusting! A NINTH-GRADER in North Texas was handcuffed and taken to juvenile detention on Monday September 13th after bringing a homemade clock to school. Ahmed Mohamed, 14, told the Dallas Morning News that the school principal told him the device looked like "a movie bomb," even as he REPEATEDLY explained it was a clock.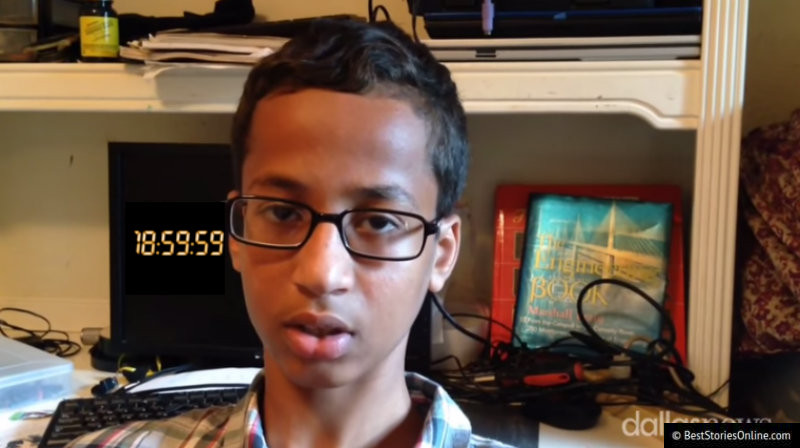 Avi Selk of the Dallas Morning News reports that Mohamed was questioned and handcuffed at MacArthur High School in Irving after the school phoned POLICE about a clock he'd made out of a PENCIL CASE. Mohamed is Muslim; his father emigrated from the Sudan. When he proudly brought the clock to school to show off his handiwork, his engineering teacher told him it was "nice," he told Selk, but warned him not to show other teachers. And when he showed it to his English teacher after she COMPLAINED about it beeping in class, all hell broke loose:
"She was like, it looks like a bomb," he said.
"I told her, 'It doesn't look like a bomb to me.'"
The teacher kept the clock. When the principal and a police officer pulled Ahmed out of sixth period, he suspected he wouldn't get it back.
They led Ahmed into a room where four other police officers waited. He said an officer he'd never seen before leaned back in his chair and remarked: "Yup. That's who I thought it was."
Ahmed felt suddenly conscious of his brown skin and his name — one of the most common in the Muslim religion. But the police kept him busy with questions.
The bell rang at least twice, he said, while the officers searched his belongings and questioned his intentions. The principal threatened to expel him if he didn't make a written statement, he said.
"They were like, 'So you tried to make a bomb?'" Ahmed said.
"I told them no, I was trying to make a clock."
"He said, 'It looks like a movie bomb to me.'"
Mohamed was handcuffed and DRAGGED out of school after police also decided that maybe it WAS a "movie bomb." He was released after being interrogated and fingerprinted. He was not allowed to call his parents during the interrogation and was evidently ALONE with police during questioning.
---
Sponsored Content
---
Law enforcement told Selk they were still investigating the case of the VERY menacing clock. And a letter sent home by MacArthur principal Dan Cummings places the blame on Mohamed, referring to "a suspicious-looking item on campus," and adding that students need to know not to bring items to school that are "prohibited." Like CLOCKS, we guess.
Our school is cooperating fully with the ongoing police investigation, and we are handling the situation in accordance with the Irving ISD Student Code of Conduct and applicable laws. Please rest assured that we will always take necessary steps to keep our school as safe as possible.
I recommend using this opportunity to talk with your child about the Student Code of Conduct and specifically not bringing items to school that are prohibited. Also, this is a good time to remind your child how important it is to immediately report any suspicious items and/or suspicious behavior they observe to any school employee so we can address it right away. We will always take necessary precautions to protect our students.
Mohamed told Selk he likes to build radios and repairs his own go-kart; a photo circulating on Twitter shows that when he was handcuffed, he was wearing a NASA t-shirt.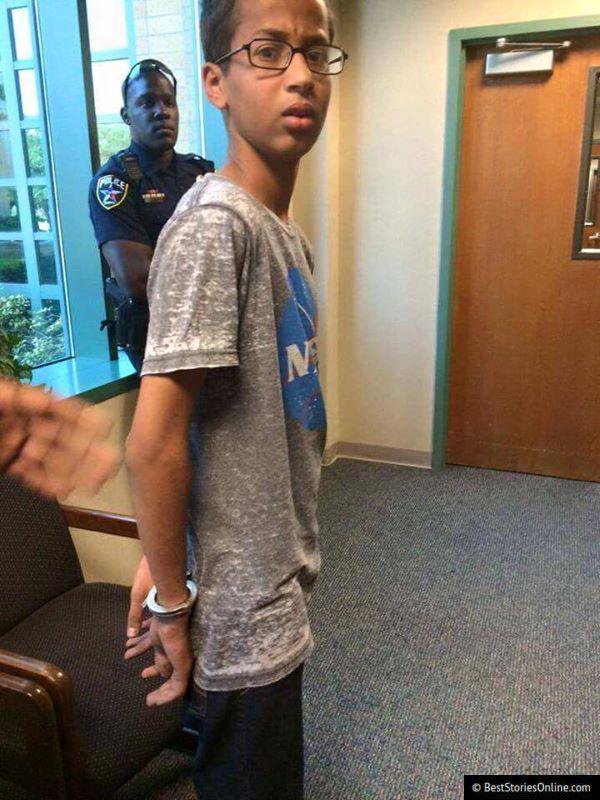 Irving has made a name for itself in recent years for not being particularly friendly to Muslims or immigrants in general. In 2007, Irving police began turning over immigrants who had been arrested on unrelated charges to the federal government for deportation, ultimately deporting more than 4,000 people. In March of this year, Mayor Beth Van Duyne championed a law making Sharia law ILLEGAL in Irving. Sharia law is… already not used in the United States. Van Duyne became a conservative HERO and appeared on Glenn Beck's show to accuse a small mediation service for Muslims of being a court with "separate laws."
Incredibly surprising that the same town would also arrest a 14-year-old Muslim circuitry enthusiast. A real SHOCK. Mohamed told Selk that he's never going to bring another of his inventions to school. Rediculous!
---
---